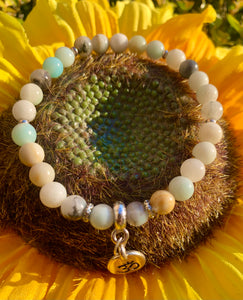 Align Your Jewelry with Your Intentions
Amazonite| has an emerald hue and mottled light-green specs that echo the color of the Amazon River and its calming and soothing energies. A powerful heart chakra stone, the amazonite crystal helps to release toxic emotions and other unwanted energy from your heart space.
Om Symbol| Revered as a Sacred Symbol among many Eastern cultures, Om is said to be the Vibrational sound of the Universe. Often chanted during meditations, it represents the essence of the Ultimate Reality of Oneness.